Kristoffer R. West MD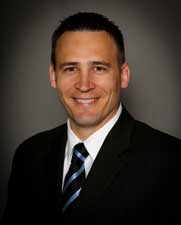 Kristoffer West, MD is a fellowship trained, ABOS board certified orthopedic spine surgeon who specializes in the conservative and surgical management of all spinal conditions. Dr. West utilizes a multidisciplinary approach to treating both neck, mid-back and low-back problems
Conservative care may include medications, physical therapy, activity modification, injections and imaging studies to aid in identifying the source of the patients pain. In the case that surgery is indicated, the source of the pain is targeted with a goal of returning to pain-free activity after surgical recovery as soon as possible.
Dr. West is trained in the newest minimally invasive microscopic nerve decompression, fusion and disc replacement procedures available. This type of surgery minimizes surgical scars, muscle damage, blood loss, postoperative pain and recovery time.
Dr. West started his undergraduate studies at Brigham Young University-Idaho, and finished at Brigham Young University in Provo, Utah. He then went on to do medical school in our nation's capital at George Washington University Medical Center. After medical school, he went up to Syracuse, New York for his Orthopedic surgery residency at SUNY Upstate Medical University. Dr. West finished up his medical training at the Spine Institute of Arizona in Scottsdale, AZ., which is known for training in minimally invasive spine surgery.
EDUCATION
Fellowship
Spine Fellowship (Orthopedic/Neurosurgical Spine)
Spine Institute of Arizona, Phoenix, AZ
Residency
Orthopedic Surgery Residency
SUNY Upstate Medical Center, Syracuse, NY
Medical school
George Washington University School of Medicine, Washington, DC
Undergraduate
Brigham Young University, Provo, UT
Brigham Young University, Rexburg, ID
Professional Associations
American Academy of Orthopaedic Surgeons
North American Spine Society
American Medical Association
Utah Medical Association