Tyler Davis NP-C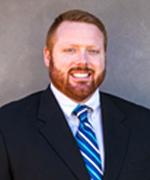 Tyler Davis is a Certified Nurse Practitioner who specializes in management and treatment of all spinal conditions ranging from conservative care to surgery.
At St. George Orthopedic Spine, our providers utilize a multidisciplinary approach to treating neck, mid-back and low back problems. Tyler plays a vital role in ensuring that patients are treated according to evidence based practices and current guidelines. This approach often optimizes conservative options and may include surgery for some individuals. Tyler also assists with the patient's preoperative workup and post-operative treatment ensuring a continuum of excellent care.
Tyler completed his undergraduate studies at Dixie State University and Montana State University-Northern. He then went on to complete his Master's degree at the University of Cincinnati. He accepted a job at St. George Orthopedic Spine with Dr. West and has gained valuable knowledge and experience for providing comprehensive spine care.
When Tyler isn't working, he enjoys hunting, fishing, playing sports, and being outside with family. Tyler and his wife were both born and raised in St. George and are loving that they get to raise their four children here too.